Project Description
Using Customer Advocacy to Drive Intent and Purchase
A few years ago,  Toyota Pacific launched regional retail campaign "Owner Approved" featuring real Toyota owners on traditional media (TV, radio etc.). However, there was modest engagement from Toyota owners on social media.
This was a missed opportunity for real-time conversations. In order to grow customer engagement, I developed an integrated social media campaign focused on customer advocacy and user generated content (UGC).
Insights – Why does it matter?
This "always on" campaign was based on the following key insights, which demonstrated the path from acquisition through advocacy.
Friends and Family are the key drivers in the car buyer journey (source: McKinsey)
38% of Consumers report they will consult social media the next time they purchase a car (source: CMO Report)
54% of millennials say they use user generated content (UGC) to inform their car purchase decisions (source: Crowd Tap)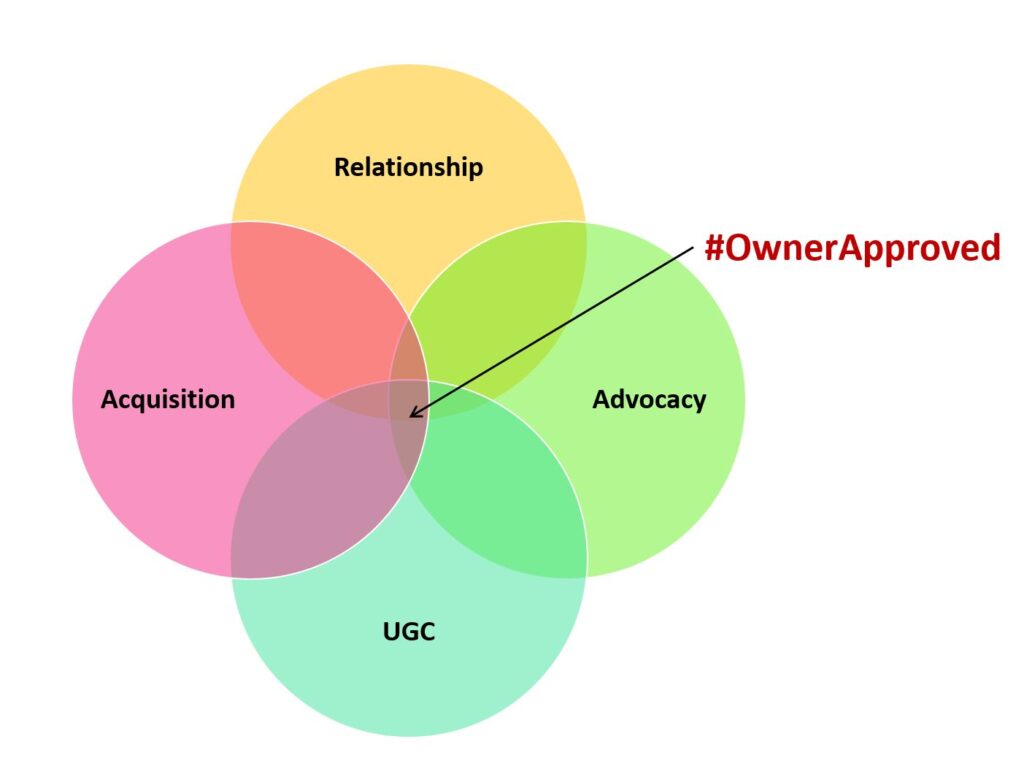 Strategy 
Building on the above insights, the strategy was as follows: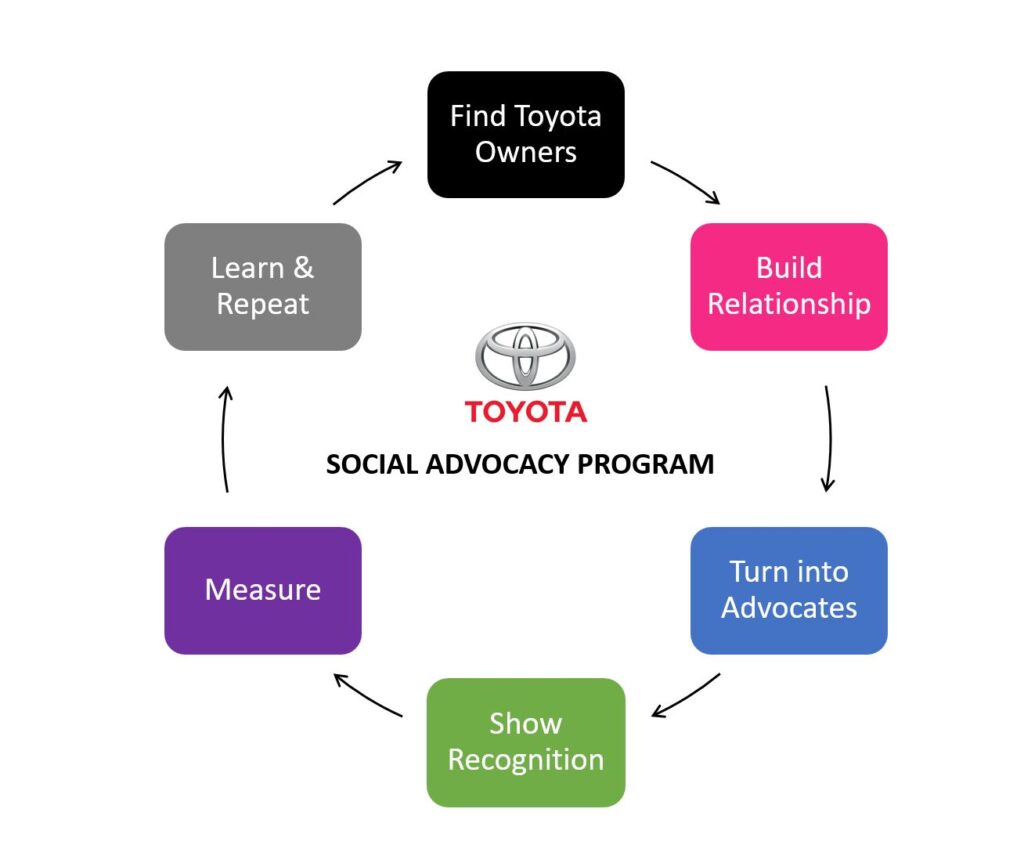 Find existing Toyota owners through extensive listening and monitoring, contesting, and other tactics
Build relationships through regular conversations, one interaction at a time
Turn owners into advocates, and encourage them to share their adventures featuring their vehicle
Recognize and reward advocates through the Toyota BC channels (e.g. Instagram feature), and unexpected gifts (e.g. Gas Cards)
Measure advocacy efforts through channel engagement and the user of advocacy hashtag #OwnerApproved 
The hashtag #OwnerApproved was used as the main engagement hashtag and measurement mechanism.
Execution
Every month, hundreds of Toyota owners share their adventures with the hashtag #OwnerApproved on Twitter and Instagram. We intercept these messages in a timely manner, and use as an opportunity to build relationships, one interaction at a time.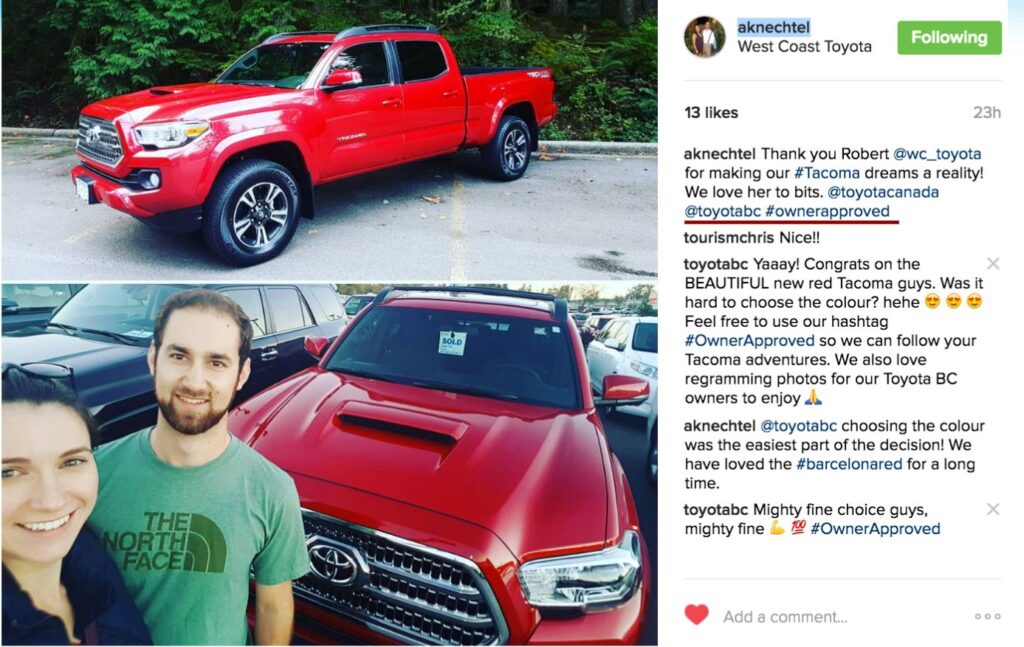 Results 
Since the inception of #OwnerApproved and integration with social efforts, Toyota BC has grown in engagement, sales, and market share.
Every month, we generate up to 1M earned #OwnerApproved impressions from proud Toyota owners in BC. Toyota BC influencers also contributed to #OwnerApproved content.
While social works in tandem with other efforts, here are some key sales figures since the inception of this social advocacy strategy:
13% retail sales increase for 2016 – #1 zone in Canada
1.6% increase in market share (BC); remainder of segment remained flat
60 Million Dollars = value of market share point in BC
Toyota BC experienced a 13% sales increase in 2016, and 1.6% increase in market share (BC). In 2016, Toyota BC became the #1 zone in Canada.
Client Feedback
I had the pleasure of working with Wahiba with the work she did for the Toyota Dealers of British Columbia. The use of social media was in its infancy (by us) before Wahiba took charge and showed us her passion for all things social, how we can make a mark and leverage some of the things that we were already doing, as well as do new things to extend our reach and impact in a targeted manner. Her background helped us to better understand how to better engage our current and potential customers by speaking to them on their terms with what interests them. I constantly threw challenges at her to show more measurement of what was happening and she rose to the challenge to ensure that the directors understood why we did what we did and what it was achieving for us. Wahiba is not only knowledgeable but also passionate about her craft!

Tom Kuch, Zone Manager

Toyota Canada