Project Description
Wahiba Chair, MBA Teaching Portfolio
Building on my 10+ years of industry experience in start-up, agency, and consultation capacities, I have been delivering marketing, media, and communications courses at top Canadian universities since 2014.
I have experience with domestic and international students (including professionals) in face to face, blended and online environments. In addition to my popular (and often sold out) boot camps at Simon Fraser University, I have developed corporate workshops for clients like Elections BC and Toyota.
Top BC Universities and Colleges
I have taught and/or developed courses at Simon Fraser University, the University of British Columbia, BCIT, University Canada West, and Langara College.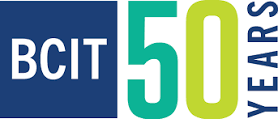 Courses Taught and/or Developed
Most of these courses I have either developed from scratch and/or enhanced using my own learning tools and case studies.
Traditional Media and Communications Courses (Sample)*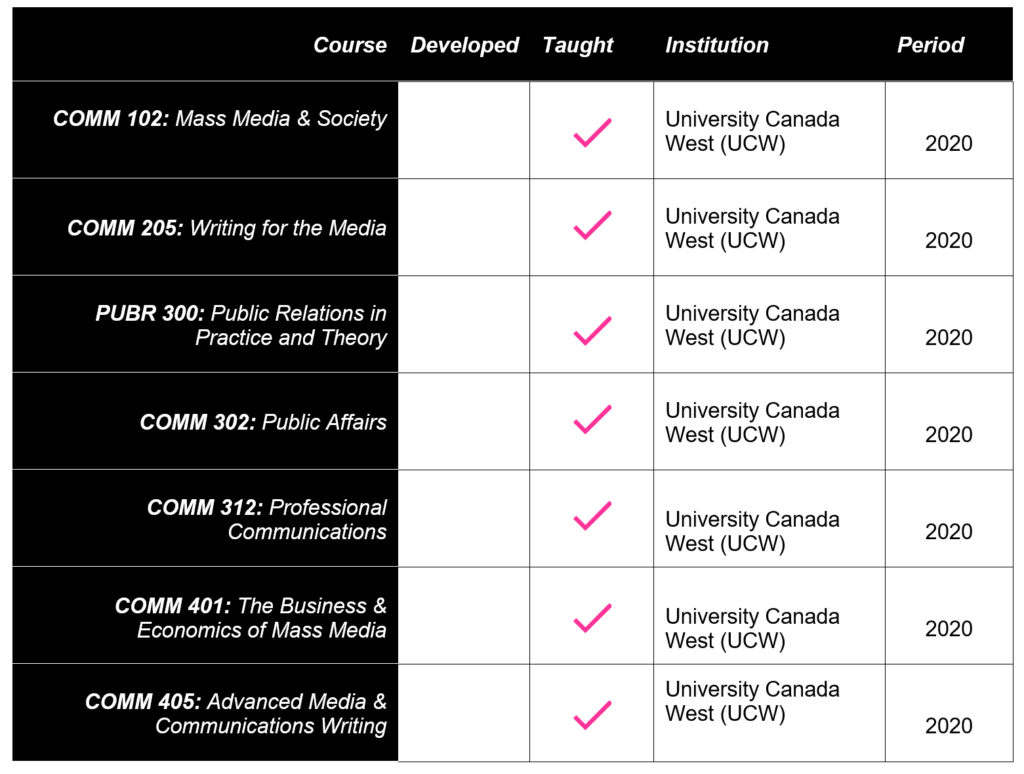 *While these are traditional media and communications courses, I incorporate technology and digital / social media marketing topics wherever appropriate to enhance the learning. These subjects are also of high interest to the students who seek careers in these areas.
Digital Marketing and Communications Courses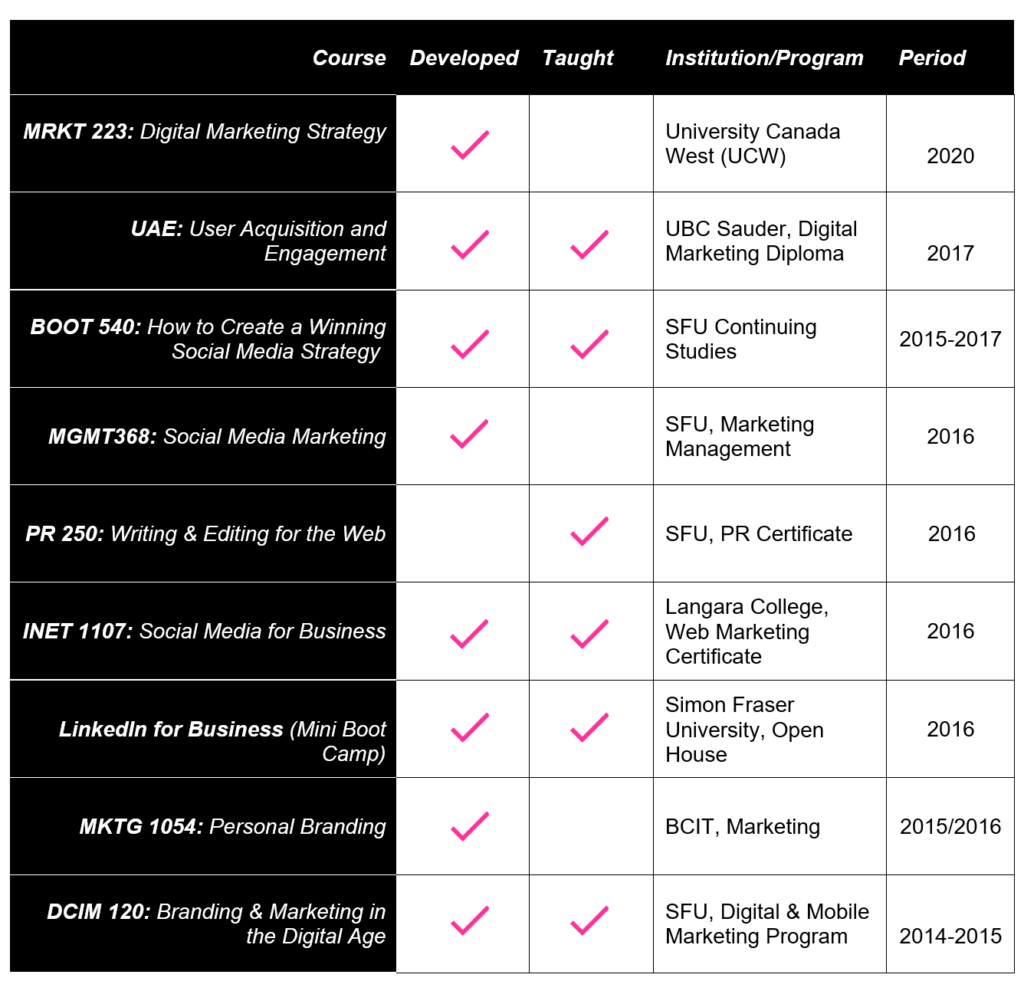 Teaching Style & Philosophy
I believe in teaching with empathy. This means building deep connections and putting students' needs (and goals) first. 
At the onset of every course, I work on building a class community. From my experience, this is crucial to students' success, especially in an online (covid 19) environment.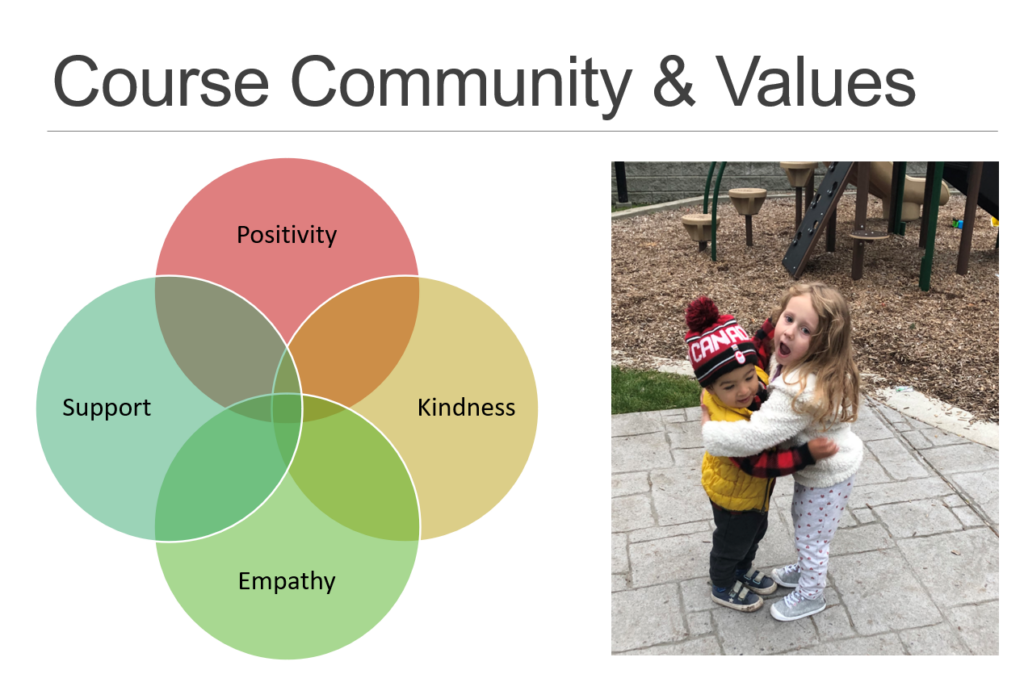 Ultimately, I aim to provide my students with the most up to date and practical knowledge that will ignite passion, enhance learning and further career goals. I also want them to know I am always here to support them no matter what.
Beyond Traditional Learning Tools
Education in the digital age requires a multidimensional approach. Building on my teaching mission above, I incorporate case studies, group work, "hands-on" activities, and presentations to help my students develop unique portfolio pieces while enhancing their communication and leadership skills. This is what employers are looking for today. 
Wherever possible, have also facilitated guest speakers and field trips. Guest speakers are industry experts who share their experience on a particular topic. Students welcome the opportunity to learn real life case studies while expanding their professional network. 
Below is an example of my students at UBC's Digital Marketing program learning how to create a landing page from the experts at Unbounce. This was followed by assignment which they used as part of their portfolio.
In addition to hiring my own students as interns, I have leveraged my strong industry network to provide compelling internship placements such as at Noise Digital and Vancouver New Condos.com.
My students have also benefited from "hands-on" experience by volunteering at my #YVRSocial events
Use of Technology 
My technology (computer engineering) background has helped me deliver engaging learning experiences using a variety of tools including Microsoft Teams, Moodle, Zoom, Twitter etc. While tools do not replace face to face interactions, they can help to translate traditional learning tools into an online environment while building engagement and community. For instance, I use Microsoft Teams' channels as break out rooms for group work and activities. In a recent LinkedIn article, I discuss my  integration of educational technologies.
Here's an example of how I incorporate Twitter to build real-time connections and community.
This is an aspect of the course my students have consistently enjoyed. I have recently spoken on the topic of at ProfCon, the #1 conference for marketing educators.
#UCWCOMM205 @WahibaChair
It was great experience as the course includes a more practical view point than theoretical techniques. Moreover, tweeting on Twitter adds more fun and excitement to this course. pic.twitter.com/Jsnkw3ESE2

— Sukhmanjot Kaur (@SukhmanjotKau16) December 15, 2020
Faculty and Staff Recommendations 
Wahiba is a consummate professional whom I had the pleasure of working with in the Digital Marketing Communications program at UBC. I was highly impressed with her ability to build rapport and encourage engagement with the class. Additionally, her in-depth knowledge of user acquisition in a rapidly shifting digital marketing landscape was a huge benefit to our students and they gained enormously from her expertise.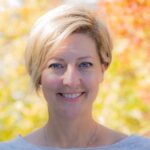 Sarah ter Keurs, Program Manager
UBC
"Wahiba is a recent addition to our Web Marketing Certificate Program. Her knowledge and expertise in this subject matter has impacted our Web Marketing Program greatly, as she enabled us to take our social media courses, and Certificate Program to a higher level"

Raymond Chow, Program Coordinator
Langara College
Wahiba taught the course Branding and Marketing in the Digital Age with SFU Continuing Studies' Digital Communications with Advanced English Training Certificate this past Spring. Her course was ranked highly among all the students and was cited to be the highlight of the second half of the program. Students described her as passionate and inspiring, and her willingness to stay after class and go above and beyond for each student did not go unnoticed.Her ideas are fresh, innovative, and above all practical. Students left her class with tangible skills on how to strengthen their own personal brand in this changing digital age. Wahiba brought in several guest speakers to keep the ideas and approaches offered in class diverse and students greatly appreciated this valuable networking opportunity. Wahiba was a great asset to our program and we would be more than happy to have her back to teach the course again.

Laurel Berg, Program Coordinator
SFU Continuing Studies
Student Recommendations 
I had a really valuable experience in Wahiba's User Acquisition & Engagement class at UBC. She is a patient teacher and is attentive to each student's pace of learning. Her lecture content paired with hands-on exercises and presentations are sure to solidify one's grasp of the topic! I am now better positioned to help build businesses using the tools I learnt in Wahiba's class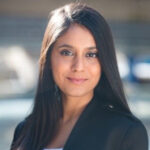 Shraddha Sekhon, Digital Marketing & Brand Director
Lucky Iron Fish Enterprise
I was fortunate and delighted to have Wahiba as one of my instructors in the UBC Digital Marketing Communications Program. Her natural talent in communications and marketing really speaks through her lectures, as she's able to reference real-life scenarios to provide a better understanding for her students. She has strong EQ and was very resourceful to us which makes her an approachable, open-minded and a valuable instructor. I look forward to working with her in the near future. Thanks Wahiba!

Rummana Zahid, VR Marketing Coordinator
Atlantia Canada
Wahiba, is a very resourceful instructor. It was a pleasure learning from her in the UBC Digital Marketing and Communications program. She brings her real-life experience to the classroom and makes her instruction practical and hands-on. I hope to work with her in the near future and wish her the very best.

Shruti Moorthy, Growth Marketing Manager
Galactic Fed
Wahiba is a knowledgeable and insightful instructor. The content of her class is relevant and well-documented, and her manner is engaging and helpful. Everything she does comes from years of experience and she has a great understanding not only of the subject matter, but also of the students' needs . One of the most delightful classes I've ever taken

Lumi Constantin, Marketing and Design Specialist
Omicron
Wahiba's insight into branding and marketing at a personal and corporate level was invaluable as a student at Simon Fraser University. Her ability to take this widely varied aspect of marketing and break it down to a concise series of lectures without losing any important detail truly helped expand my understanding of the topic. I look forward to a future opportunity where our paths would cross professionally. A great instructor and mentor

Marco Renna, Production Assistant
VFX
I had the great pleasure in taking Wahiba's Branding and Marketing in the Digital Age at SFU, which I found extremely valuable. She exhibited a high degree of expertise on this topic, and her presentation was engaging and super clear. Wahiba was absolutely professional, knowledgeable and passionate about her work. In addition, her teaching style was open and inviting to questions, which she was always willing to give her time to responding online and in class. I would certainly recommend her for any training regarding this topic.
Sam Tan, Area Manager
Amazon Logistics
You may view more recommendations on my LinkedIn profile.
Course Evaluations
I have consistently received high evaluations for my courses and boot camps. Below is a sample of recent course evaluations at UCW:
In addition to formal evaluations (conducted by institutions), I have also conducted my own (available upon request) - as I strongly believe in measurement. I take student feedback very seriously. It helps me constantly grow and improve as an instructor. 
Get In Touch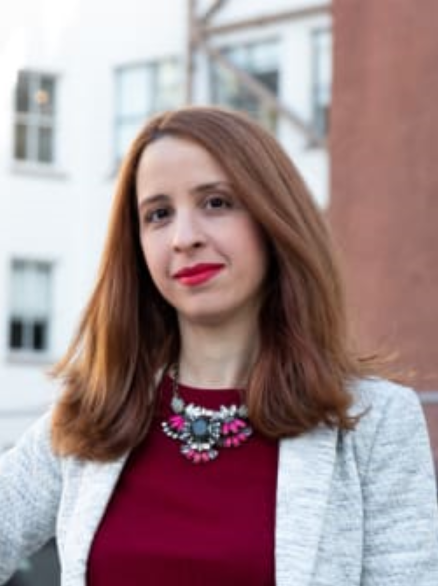 As Featured In